"Luísa learnt, with this Atlantic, to always invest – a continuous scream whose echo enlightens us about the verticality of the mountains and the constancy of the waves, so essential to collective survival."
Irlando Ferreira
ISLAND in IV acts
by Luísa Queirós
The exercise of presenting to the public a look at the work of Luísa Queirós from a curatorial and temporal perspective requires boldness and some silence.
Luísa has dedicated her craft to the creation of dreamlike spaces where utopias are possible. This universe of multiple layers is essentially composed of dreams, dialogues, questionings, resistances and a lot of courage. The artist positions herself with an open heart and an elevated spirit in the face of all the struggles and challenges. Fundamentally, it is from this perspective that it is interesting to approach her work. This dialogue and critical approach focus on her pictorial dimension in particular, but, as she is a multidisciplinary artist, her creation naturally integrates different materials, techniques, technologies and languages.
Luísa Queirós clearly sees herself as a storyteller who uses the canvas as a stage: "the people there are characters from a play". This cue served as inspiration to pull from theatre the elements to stitch together this outlook underpinned by the concept of ISLAND, understood in its multiple symbolisms, meanings and interpretations: place of imagination and freedom, solitude and resistance, independence and isolation…
This work presents a play in IV Acts, guided by the visual poetics and the problems codified in it. We need silence to listen to the multiple screams present in her work. Luísa learnt, with this Atlantic, to always invest – a continuous scream whose echo enlightens us about the verticality of the mountains and the constancy of the waves, so essential to collective survival.
ISLAND in IV acts
Luísa Queirós Gallery:
Act I Dream Manifesto
It speaks to us of the times, the people and their tensions, but also of the imaginary and the poetics of Luísa Queirós' work. The series "Burrocratas", which is part of this act, problematizes and questions the State machine and poses questions such as "Are we going to let things go on like this?" The remaining scenes invite us on a journey through this dreamlike universe that marks her work.
Act II Black, White, Blonde – Families
Comprised by the series "Cape Verdean families of 1900 and other families" (1997 to 2003), this is a creative and anthropological discourse on the mixed-race condition of Cape Verdean families. This series satirizes and problematizes the contradictions within this society, as well as highlighting its beauty – the result of miscegenation.
Act III This Sea
It is a dive into this immense sea to extract topics that speak of abandoned boats and the shipwrecks of the body, of the soul… in short, a metaphor of social decadence. This act is also composed of sculptural pieces, which reveal other aesthetic and sentimental motivations of Luísa Queirós in her close relationship with the sea.
Zero Gallery:
Act IV Raft of Knots
Presents a poetic dialogue based on "Jangada de Pedra" ("The Stone Raft") by José Saramago. The series "Momentos Mágicos" ("Magic Moments"), the body of this act, transfers to the pictorial language the emotions awakened by reading and appropriating characters from this literary work in order to, as Saramago states, give rise to the autonomous aesthetic object that is painting.
Biographical Notes
I
She was born in Lisbon where, during her childhood and youth, she lived in a ground floor apartment on Rua da Bica, which had as its only opening to the street a door with a wicket. From this kind of frame, Luísa and her cat watched the lift that for more than a century had been going up and down the narrow and busy street, which links Cais do Sodré to Bairro Alto. Next to the wicket, she used to place a potted plant anxiously waiting for it to grow. If few plants survived the lack of light, her imagination, the taste for flowers and cats, the attraction for a more colourful, luminous and fantastic world, grew and never left her.
II
With a grant from the C. Gulbenkian Foundation, she attended the General Course of Painting at the Fine Arts School of Lisbon, which she finished in 1964. At this school, she began her journey of anti-fascist struggle and cultural resistance and met Manuel Figueira, with whom she married and with whom she went to Cabo Verde for the first time, in 1972. During that holiday, they boarded a felucca to discover Santo Antão, but the journey was so stormy and the fright was so great that she never returned to the island that, for years, she limited herself to observing it from her studio in Rua de Praia. She never travelled by boat again, but voyages and shipwrecks never left her imagination.
III
Six months before independence, she returned for good to Cabo Verde. She still worked as a teacher for some time, but at the end of 1976, she became one of the founders of the Cooperativa Resistência (Resistance Cooperative), because of the marvellous discovery of traditional weaving, of a research work and of an enormous will to dignify the local arts. From this marriage – as Luísa called it – between artists and artisans, between the work of artistic creation and craftwork, which the founders of the Cooperative always wanted to preserve, the National Crafts Centre (CNA) was born in 1977. During ten years of enthusiastic research, learning, experimentation, creation and numerous collective exhibitions, Luísa believed that "the green dreams and the poetic and blue utopias" could come true.
IV
However, in 1989, the three founders were impeded in this path of utopias and abandoned the CNA. With Bela Duarte, at the end of 1992, Luísa launched a new and brief project to "dignify the Cape Verdean visual arts", the Galeria Azul+Azul=Verde. The line, which bound her to work on the looms and to collective projects, was definitively broken, but neither her critical and combative temperament nor her creativity were broken. She then began a very productive individual career, revealing herself as a writer – she published two award-winning comic books – and resuming, in painting, the themes that had always fascinated her, such as shipwrecks or criticism of "burrocratas". Nevertheless, there are threads that cannot be broken and the last pieces she worked on were on the theme of Arachne, the weaver of the gods.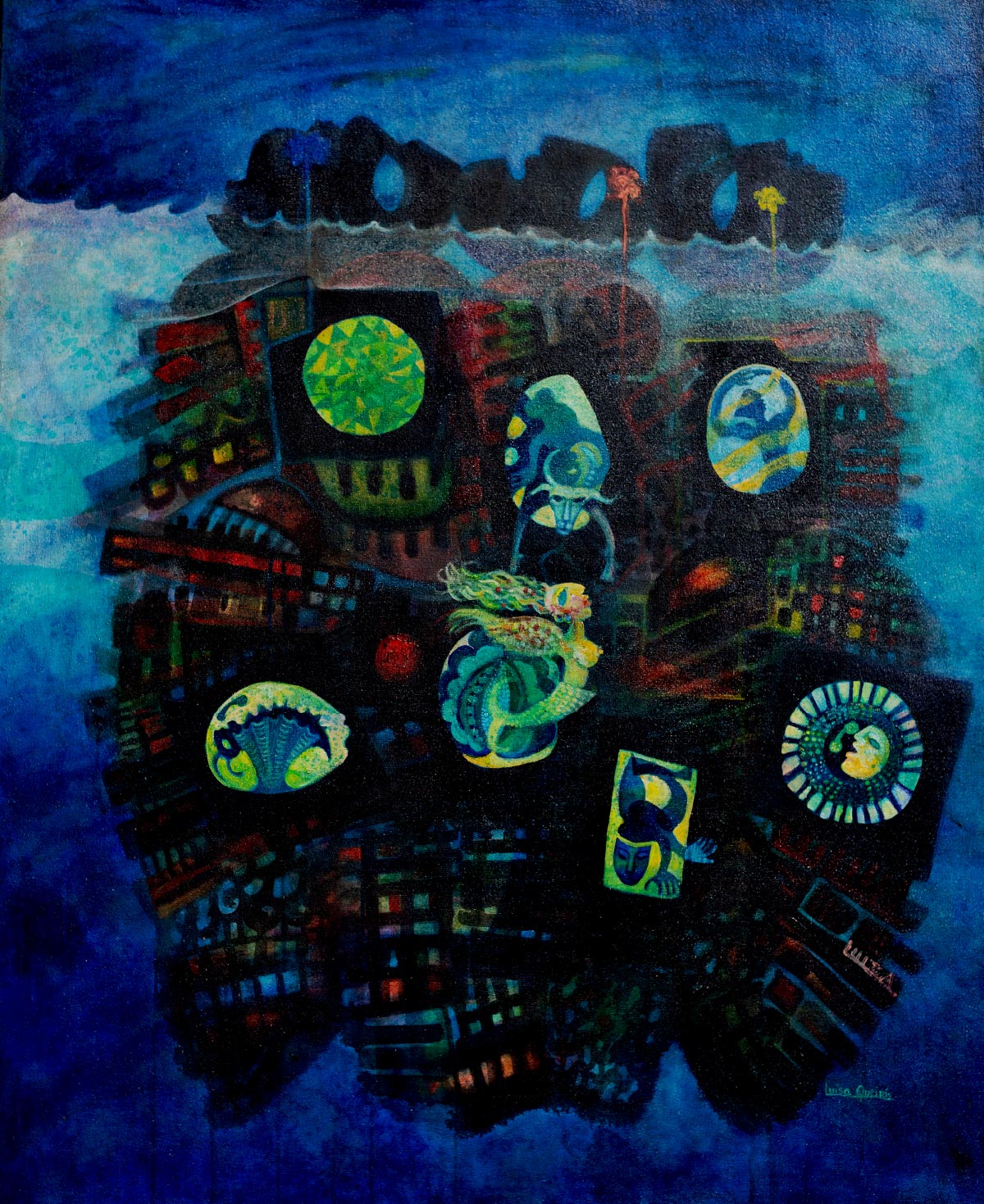 "Montes Caras – ilhas submersas" , 1990
© Queila Fernandes